1. The PNW is Gay Friendly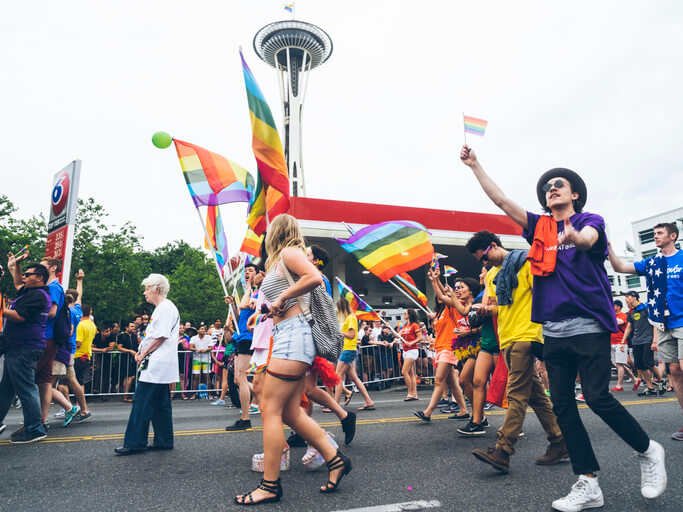 Depending on the list you look at, the major cities in Oregon and Washington move a bit, but Portland and Seattle almost always make the top 10 of LGBTQ+ friendly cities. According to Nerd Wallet, which positions Portland, Oregon in the #2 spot and Seattle, Washington in the #7 spot, they based their rankings on the percentage of residents that identify as LGBTQ+, the number of LGBT hate-crimes, the Human Rights Campaign's (HRC) Municipal Equality Index, and HRC's number of leaders in LGBT health care equality. In most urban cities in the U.S., it's expected that gay life is accepted and tolerated; however, in the major cities of the PNW––and even smaller towns such as Eugene, Oregon and Olympia, Washington––you'll find more than just the common gay bars. These gay-friendly locales offer LGBTQ+ hang-outs and resources ranging from religious congregations to hiking clubs to bowling leagues.
2. Compensated Surrogacy is legal in Oregon and now Washington
Oregon has always allowed for compensated surrogacy, drawing intended parents from around the world. However, previous Washington laws rendered surrogacy and donor agreements unenforceable. That changed in 2019, and Washington's updated law now allows for enforceable surrogacy and donor agreements, while adding important protections for LGBTQ+ intended parents and ending a previous restriction on compensated surrogacy. Now that compensated gestational surrogacy is legal in both Washington and Oregon, more LGBTQ+ people from around the world are traveling to the Pacific Northwest for their family-building needs.
3. Egg Donation is on the Rise
Many LGBTQ+ couples or single parents need the help of an egg donor to grow their family. According to the CDC, treatments utilizing the help of an egg donor (using frozen embryos) more than doubled in the last dozen years. The number of cycles using frozen embryos from donor eggs increased from 5,250 in 2007 to 13,458 in 2016. The rise in success rates and donor egg cycles increases the availability of these treatments, as well as improves the public perception of the process. Clinics all around the U.S. are experiencing an increase of intended parents using donor eggs, along with an increase in women willing to donate their eggs.
At ORM Fertility, our in-house Egg Donor Program provides intended parents with a large and distinguished group of egg donors so they may find the best possible match. All of our egg donors are intensely screened, allowing for higher chances of a successful pregnancy and healthy baby.
4. Genetic Testing Increases Chances for a Healthy Baby
It's no secret that utilizing fertility treatment can be hard to budget. A lesbian couple may need a sperm donor and intrauterine insemination (IUI) treatment, which typically costs under $2,000, whereas a  gay male couple might need an egg donor, a surrogate, and IVF, which can total upwards of $45,000. When considering the financial expense in addition to the emotional investment, these intended parents are looking for the best possible chance of having a successful pregnancy resulting in a healthy baby. Most soon-to-be parents opt into Preimplantation Genetic Testing (PGT-A, formerly CCS), the most advanced form of chromosomal screening on embryos. Through this testing, the number of chromosomes present in these cells are determined, and physicians can identify the embryos that are most likely to implant in the uterus and result in a healthy ongoing pregnancy. While the vast majority of babies are born healthy, there can be great value in identifying potential genetic risks before conception.
At ORM Fertility, our in-house team of Genetic Counselors works directly with patients to analyze their results and help them understand their genetic risks and genetic testing options in order to optimize their future family's health. They work with your physician to integrate genetic information into your overall treatment plan.
5. Simplified Process
The process for people needing IVF, a surrogate, or a donor has become more streamlined than ever. ORM Fertility offers a range of fertility treatments, including in vitro fertilization (IVF), which is required for gestational surrogacy patients; genetic testing with a large in-house genetics team; a robust in-house egg donor program; and strong, close-knit relationships with local surrogacy agencies. Having all these services coordinated and administered at one clinic streamlines the entire process.
6. Comprehensive Care and Concierge Service for Global Gays
The Pacific Northwest has become a beacon of hope for gay parents-to-be from all around the globe. At ORM Fertility, our team of experts is well versed in the process of helping intended parents navigate every step of their journey to parenthood. Frequently, this process goes above and beyond coordinating treatment, offering assistance with legal paperwork, travel, and hotel arrangements, working with foreign consulates, helping manage the birth certificate and adoption process, and anything else a patient might need.
ORM Fertility's team is extremely knowledgeable and experienced when it comes to these complex processes and is available for patients every step of the way. ORM Fertility has a global team, including an office in Tel-Aviv, Israel; an office in Shanghai, China; and staff located in the UK and Canada.
ORM Fertility is honored to help our LGBTQ+ families grow. Join us for a Free Fertility Seminar to learn more about your options for growing your family.
[button variant="1″ icon="icomoon-home" background="#739D8B" color="#FFFFFF" size="small" url="/free-fertility-seminar/" target="_blank" ]Register Today![/button]