As Seattle Sperm Bank is our local option for sperm donor cycles, they have offered free shipping to ORM patients. To browse Seattle Sperm Bank donors, click on the button below and create a log on. An all-access pass is $50 and includes the donor's audio interview, Keirsey test, baby photos, and genetic results.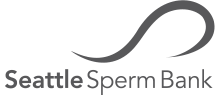 Frequently Asked Questions About Sperm Donors
When do I need to ship my sperm to ORM for my treatment?
Sperm needs to arrive at ORM on or before your period start date. If expedited shipping is needed this is an additional cost covered by the patient.
Are both IUI and ICI-ready vials available?
You may purchase either vial type although our recommendation would be to purchase IUI prepped vials for those doing IUIs and either for those doing IVF. If you are unsure of the differences between IUI and ICI and would like more information, please click here. If you need additional information, please contact your physician.
Is there anyone available to help me understand sperm donor genetic carrier screening results?
Navigating the landscape of genetic carrier screening with sperm donors can be difficult since not all donors have been screened the same way. We have a donor bank coordinator and a team of genetic counselors who will review and help you understand carrier screen results for you and/or your sperm donor.
When I get pregnant, can I purchase vials for a future sibling?
Yes, you may purchase vials from the same donor directly from the sperm bank, to use for a future sibling. If you would like to store your sperm vials on-site at ORM, you must be an established ORM patient receiving treatment and having your IUI done with an ORM provider. To store vials, there is an annual storage fee of $250. Alternatively, you can contact your sperm bank of choice and purchase additional vials to be stored at the sperm bank. If you would like to ship the vials somewhere else, you will be responsible for shipping fees.
Do I need to report my pregnancy and how do I do it?
It is very important that you report your pregnancy to the sperm bank if you became pregnant with sperm from one of their donors. The bank uses these reports to limit the number of families per donor in a certain area.