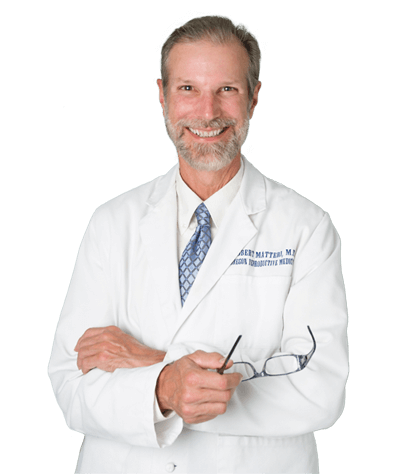 Board-Certified Reproductive Endocrinologist
"Our continued growth comes from our outstanding success rates while always striving to provide the most compassionate care"
Dr. Matteri, MD is a board-certified reproductive endocrinologist specializing in the diagnosis and treatment of infertility. He founded Portland Center for Reproductive in 1989, now ORM Fertility.
It was during his fellowship in medical endocrinology that he became fascinated with reproductive medicine, and with the announcement of the first in vitro pregnancy, he suspected that reproductive medicine was on the verge of a great transformation. He then switched specialties and completed further training in obstetrics and gynecology, and a fellowship in reproductive endocrinology. After moving back to Portland, he established Portland Center for Reproductive Medicine, then one of the first private reproductive clinics in the Pacific Northwest.
Dr. Matteri's primary goal has always been to provide patients with the most outstanding, scientific reproductive treatments available, coupled with the best possible patient experience.
He mentions the construction of the first dedicated embryology clean room for in vitro procedures in the states in 1999 as an example of the commitment to bringing the best science available to our patients. "Our continued growth comes from our outstanding success rates while always striving to provide the most compassionate care," he says. "I'm very proud that ORM continues to be a leader in reproductive medicine, both in the United States, and now worldwide."
Dr. Matteri no longer sees new or continuing patients but continues to stay connected to our team and the practice.
Education is a major non-medical interest for Dr. Matteri, and he was a cofounder of the German American School here in Portland, and is a strong supporter of local Portland schools.
Hiking and ecology are also passions. He has served as a board member for many years with the Friends of the Columbia Gorge, which works to preserve the Columbia River Gorge. On his farm, he has tried to improve his land, and has planted thousands of Douglas fir and Ponderosa pines over the last 25 years. He has also planted a small vineyard near Yamhill, Oregon (Matteri Vineyards) and has completed both the Vineyard Management, and the Wine Production programs at Chemeketa College's NW Viticulture Center.