We are very proud of our live-birth success rates. But statistics aren't the only extraordinary element of our practice. The personalized, thoughtful care we provide our families is what sets ORM apart.
Our Cutting-Edge Laboratory
Our laboratory is accredited by CAP (College of American Pathologists) and is a member of the Society of Assisted Reproductive Technology.
A full list of pregnancy and live birth rates from centers across the country can be clearly viewed on the CDC website.
This data is also published at SART.org. NOTE: A comparison of clinic success rates may not be meaningful due to patient medical characteristics, treatment approaches, and entrance criteria that may vary from clinic to clinic.
Clinics are required by law to report their annual in vitro fertilization (IVF) cycles and subsequent pregnancies to the Center for Disease Control (CDC). These figures are published each year two years after the cycles were initiated because live births must be recorded. Therefore, for example, the cycle data for 2015 was published in 2017.
ORM Fertility's success rates for IUI are 11% which can be compared to the national average of 8-10% for IUI.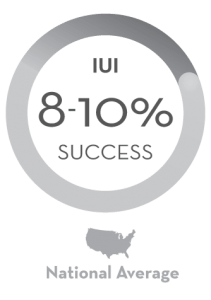 (using frozen embryo transfer with PGT-A)
On SART.org, the SART filter was used to select Frozen embryo, single embryo transfer and PGTa in the category of  "Live birth per intended egg retrieval(first transfer)"
| Live Birth Transfers | Donor Egg | Up to age 35 | Ages 35 - 37 | Ages 38 - 40 | Ages 41 - 42 |
| --- | --- | --- | --- | --- | --- |
| ORM Fertility % Live Births per Transfer (# of transfers) | 61% (341) | 69% (74) | 60% (65) | 54% (43) | 5/9 |
| US National Average % Live Births per Transfer (# of transfers) | 52% (6,804) | 59% (15,089) | 56% (9,180) | 54% (6,88) | 53% (1,487) |
(using frozen embryo transfer with PGT+A)
On SART.org, the SART filter was used to select Frozen embryo, single embryo transfer, PGTa and Gestational carrier in the category of  "Thawed embryos, donor eggs."
| Live Birth Transfers | Egg Donor GC Cycles (frozen PGTa tested single embryo transfers only) |
| --- | --- |
| ORM Fertility % Live Birth per Embryo Transfer (# of transfers) | 62% (275) |
| National Average % Live Births per Embryo Transfer (# of transfers) | 56% (2,161) |