Anyone can be
challenged to have a family.
You are not
alone.
One in Eight
National Infertility Awareness Week (NIAW) is a campaign aimed to raise awareness around infertility and help change the conversation. Anyone can be challenged to have a family, in fact, infertility is common with one in eight couples in the U.S struggling to get pregnant. NIAW brings the community closer together and creates a platform for people to raise their voices. With so many in-person events canceled because of COVID-19, people with infertility and those struggling to build a family need support more than ever. Anyone can be challenged to have a family. No matter what race, religion, sexuality or economic status, infertility does not discriminate.
#InfertilitySucks Shareables
#Infertiltysucks…especially when it feels like you can't talk about it! Infertility is common, affecting one in eight couples in the U.S., and is defined as the inability to get pregnant after 12 months of actively trying. An infertility diagnosis can be overwhelming, cause emotional stress, create feelings of inadequacy, drain finances, and cause issues in partnerships. On top of that, the stigma around infertility silences the community affected by it. Help us break down the stigma and change the conversation. Share these #InfertilitySucks shareables with your friend, family, and community. Let them know they're not alone.
Join the conversation and help us break down the stigma and barriers people have to growing their family. We have partnered with ORM Families to create some shareables to make it easy for anyone to join the conversation and raise awareness for infertility and those that the disease impacts.
Infertility Support E-Cards
Created by ORM Families
Share on Social!
Show your support for those struggling with infertility by sharing any of these images to your social media channels with #infertilitysucks! Help change the conversation and remove the stigma around infertility. Together we can remove the barriers for those wanting to build their family.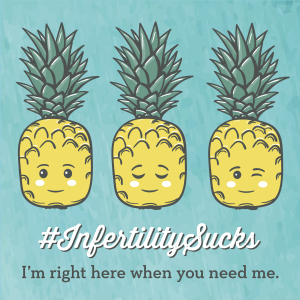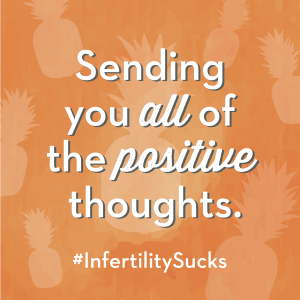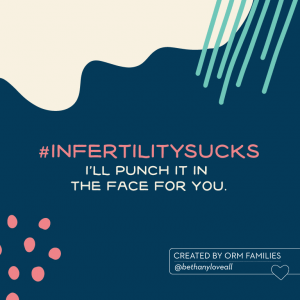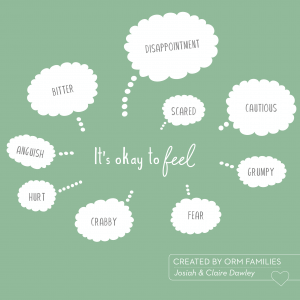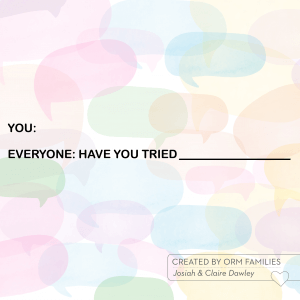 Professionally-Led Infertility Support Group
ORM's Director of Psychological Services, Britta Dinnsmore, Ph.D., offers a free monthly infertility support group that is open to the community. On April 22, 2020, the support group will be focused on stress management. At the meeting, Britta will discuss mind-body tools for managing stress, practical tips for structuring life to minimize stress, as well as time for discussion about any issues that are currently relevant for the participants that particular night.
ORM Patient Story
Heather & Brandon
After 2 fertility specialists, 7 IUIs, 2 IVF procedures, 4 surgeries, and 10 years of failed attempts, Heather and Brandon fought to maintain hope.
"I was overwhelmed with how
something that was so simple
for my family and friends had become
the most complicated journey of my life."
Pineapples have become a symbol of infertility, largely adopted by the infertility community with a sense of empowerment and hope.
Pineapples have a variety of correlations and connections to infertility including a belief that pineapples could help you get pregnant. While the pineapple doesn't have any scientifically-proven effect on fertility, many people tote the medicinal purposes of the mix of enzymes they contain called bromelain, which may decrease scar tissue and inflammation.
The other connections between the pineapple and infertility are more anecdotal, including, the widely-used maxim, "stand tall, wear a crown, and be sweet on the inside." The infertility community has embraced that sentiment with pride as a symbol of their strength, determination, and poise.