ORM Egg Donor, Kyra, offered to share her story of being an egg donor in hopes of encouraging others to do the same, and end the shame and stigma many couples or individuals face with infertility. 
---
The Reason I Became an Egg Donor
I am 22 years old and recently graduated from Washington State University with a degree in psychology. All my life, my dream was to become a mother—I grew up in a single-parent home, raised by the best mother a child could ask for. I know that many people around the country have the exact same dream of becoming a parent. However, about 15% of couples today are unable to conceive a child. 
Being in a committed relationship, I began thinking about my future, and what that might look like for my partner and me. Thoughts started to occur like, "What if we can't have kids? What would we do? What would I do?" I cannot imagine the heartache felt by couples that struggle with infertility.
This is the reason I decided to become an egg donor—to bring the gift of motherhood to women struggling with infertility who also dream of becoming mothers.
I know a few family friends who have donated in the past, and I began to ask around about the egg donation process. After about six months of research, I decided to dive deeper and contacted ORM Fertility. Instantly, I was greeted with welcoming answers, guidance, and encouragement.
My Experience Becoming an ORM Egg Donor
What's the first step in becoming an egg donor?
Week 1: The first step for me was simply applying to be an egg donor with ORM Fertility. There was an online application to fill out asking about my history, my passions and just about every background question in the books. There was also a section to add information about family history. This took some time because I wanted to be as detailed and accurate as possible and because I wanted to learn more about my family history. The family history portion is especially important because it will eventually become the foundation of any future child's permanent health history.
After submitting my application, it only took a couple of days for the Donor Coordinator to get back to me. We chatted about a couple of items on my application, then moved right on to the next phase: appointments. The screening process is a whirlwind, but if you take it one step (or two) at a time, it goes by quickly! During this entire process, mind you, I was about six hours away from the clinic in Portland, Oregon, so finding time to chat and secure appointments in between assignments and midterms was challenging.
Week 2: Less than a week after my approval, I had a phone interview/appointment with a Genetic Counselor at ORM Fertility to discuss the family history listed on my application. During this call, we reviewed all of my relatives' history and anything that we'd need to potentially consider during the donation process.
What happens during the medical screening?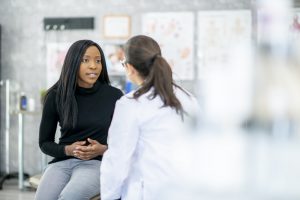 Week 3: After my phone call, I set up a screening appointment with ORM Fertility's office. (If you are in weeks 1 or 2 of the process while reading this, brace yourself.) This appointment is your Medical Screening (dun dun duuuuun). The entire appointment lasted at least two hours and included an ultrasound, urine test and blood tests (lots of blood). I was also able to book my donor-orientation meeting for the same day, so all in all, I was there for about three hours.
Week 4: I waited to hear back about my blood test results. They were sent down for recessive genetic testing, where they test for about 175 recessive genes; about 25% of people come back positive for something they weren't aware of. 
Week 5: I got my results back! I was negative for all but one gene, and even that one was inconclusive. I was really pleased with the results. That same week, I set up my screening appointment with a psychologist. We chatted about why I wanted to donate and brought up multiple "what if" scenarios. I had spent so much time researching donation and the process that it didn't even occur to me that some people get turned away after this appointment.
Week 6: I got my stamp of approval from the psychologist and was asked to come back to ORM Fertility for a photoshoot. At the time I only had a handful of photos on my profile and they wanted to snap a few shots to add to the collection. But they were super flexible, and I ended up just emailing them more photos from my social media accounts.         
Matching With Intended-Parents
Week 8: After sending in more photos, I was officially accepted into the donor database. I was ACTIVE! My profile was live and I was able to "match" with a potential recipient. Sometimes it can take a bit to be matched with intended-parents, use these tips when filling out your profile to ensure your profile is thorough and comprehensive which helps with matching. 
Week 10: I was matched with intended parents! WOO HOO!
Week 12: We had to cancel my match. :( I was seriously so bummed out. But it turns out the intended recipients also had a positive test result for the same inconclusive gene as the one identified for me during my week 5 testing. Matching us would have put the egg at higher risk for that gene as well, so our match was canceled.    
Week 14: It was only a couple weeks after we canceled the first match that I was rematched with another recipient. After this, my coordinator and I went over cycle calendars and found it best to start my cycle in about a month. By then, I would have graduated from college and would be home permanently.
What happens when you start your donation cycle?
Week 1: Fast forward to the start of my donation cycle—I started with an appointment at ORM Fertility, and a week just on the birth control pills they provided (so nice!). 
Week 2: Once week 2 of my cycle hit, I was taking prenatal vitamins and a couple of other medications to prepare my body for self-injections. Everything got mailed to me, which was SUPER convenient! This week was difficult for me, however, because I had to limit caffeine, alcohol and sexual activity. 
Week 3: At week 3, we began my self-injections. I remember waking up at 6 a.m. the first day, stressing out trying to mix together my morning injection of Menopur. I was so nervous and filled with adrenaline that I actually almost passed out! It was scary at the moment, but after just one more injection, I adjusted quickly. I remember my coordinator mentioning that I'd feel pretty fatigued and to limit physical activity, but I was super motivated and high-energy during the first few days. Then, around day five of my injections, it hit me like a ton of bricks. I instantly was so tired, bloated and unmotivated. Typically injections last 10 days, but I went for 11. It seemed the eggs needed an extra day to grow, which wasn't really an issue for me.
What's retrieval day Like?
Week 4: The retrieval day was set for two days after my last injection. I honestly think this was the easiest day of them all. I went in, got undressed, got an IV and was off to the procedure room. Next thing I knew I was awake, getting dressed and heading home. It took about two hours from walking in the door to walking out. The next day I felt like nothing happened. 
Later that week, about five days after the procedure, the bloating was horrendous for me. I had a lot of cramping—at times the post-procedure cramps were even worse than when I was prepping for the donation. 
But it was all totally worth it.
Every second that I was aching, I just remembered the amazing, caring recipients who were now able to fulfill their lifelong dreams.
Being an egg donor is not for everybody. But through sharing my process of donating, I hope many women can learn about it and at least open themselves up to the possibility of becoming an egg donor themselves. Many of my family members still don't know that I donated, and I honestly regret not saying anything. Sure, a few of them will probably have some strong opinions on the subject. But the reality is it's my body, it's my choice, and I'm more than grateful to have given the gift of life to others.
Kyra Conway is 22 years old and recently graduated from Washington State University. This fall she will pursue her master's degree in her hometown of Portland, Oregon. 
Learn more about becoming an ORM Egg Donor and apply today!
[button animation="none" variant="1″ icon="icomoon-home" background="#739D8B" color="#FAF7EF" size="small" url="https://app.oregonreproductivemedicine.com/donor/ini" target="_blank" ]Apply Today[/button]