This morning, members of the ORM team, joined other leading healthcare professionals at Portland Business Journal's Healthcare of the Future event to come together around the intersection of tech, innovation, and healthcare. ORM was proud to be a Gold Sponsor of the event and support our inventive health services community.
During the Local Leadership panel, we heard from Kathryn Correia, President and CEO of Legacy Health, Dr. Danny Jacobs, President of OHSU, and Lisa Vance, Chief Executive of Providence Health & Services- Oregon. Dr. Danny Jacobs spoke on behalf of OHSU regarding progressing population health, "the focus is shifting from treating diseases to preventing diseases and utilizing big data that includes demographics to better treat patients."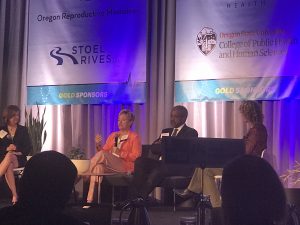 On the Innovation Panel, we heard from Stacy Feld, Vice President of Consumer Investments and External Innovation for Johnson & Johnson, Clayton Lewis, CEO & Co-Founder of Arivale. Dr. Bradford Hesse, Chief of the National Cancer Institue's Health Communication and Informatics Research Branch,  spoke about the importance of creating a communications safety net so that no patient is left behind. He stressed design tools and design expertise to create a communication system that will connect a patient to all of their providers across all care environments over their lifetime. This system would allow the patient to have access to all of their data over their life so they can be in control of their own health care.
Emily Mounts, ORM's Director of Genomics, represented Oregon Reproductive Medicine and presented the Health Care Global Impact Award to Martha Holley Newsome, President and CEO of Medical Teams International.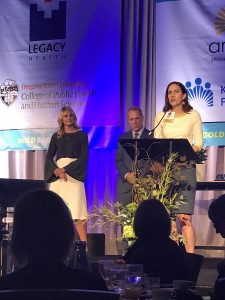 ORM is honored to be a part of the Healthcare of the Future event where innovation in the healthcare industry is recognized, supported, and promoted.
Learn more about how ORM is leading innovation in the world of fertility with our in-house genomics program, ORM Genomics.