Written by a Patient Care Manager for ORM Israel
If you live in Israel and happen to be a gay couple, starting a family might be a complicated endeavor. The LGBTQ+ community situation in Israel is a bit mind-boggling, to say the least.
Israel's Political Climate for the LGBTQ+ Community
Every Israel survey dating back to the early '90s has indicated major public support for gay marriage. There are out members of the Knesset, the Israeli parliament, and Israel's first openly gay mayor, Eitan Ginzburg, who governs over the city of Ra'anana. The Israeli Army not only accepts transgender individuals but they also help finance their gender re-assignment surgery. Most cities support and fund gay teen youth centers and on the day of gay pride, many employers will give staff the day off as if it was a national holiday and they might even sponsor a parade float. Not to mention the city of Tel- Aviv which many would refer to as the gay capital of the world. All of this together makes Israel sound like a supportive place for the LGBTQ+ community, right?
Well, when it comes to the individual, or citizen versus citizen, Israel is considered a relatively good place to live a carefree gay lifestyle. However, when it comes to the government versus citizen treatment- that's where things start to get complicated.
In 2015, Ayelet Shaked, a member of Knesset at the time and later to become Minister of Justice, declared that any gay person wanting to get married should not vote for her and fellow running mate Naftaly Bennet, who later became the education minister and was recently in the running for prime minister. This is merely an example of how ministers and members of the Knesset can say whatever they want about the LGBTQ+ community without it impacting their chances of election.
Elected officials have declared themselves proud homophobes, accused gay people of creating earthquakes and other natural disasters, and expressed their view that gay marriage will bring on the end of the Jewish people all seemingly without any repercussions.
In 2018 there was a public outcry in response to a breach of promise from the government regarding gay rights to Surrogacy. Prime Minister, Netanyahu, publically stood in support of an amendment that would have legalized gay fathers to utilize surrogacy but voted against the amendment when the opportunity arose. In response to this, LGBTQ+ people and straight allies marched in protest. Major companies and brands showed their support of the LGBTQ+ issue publicly in the media and gave their LGBTQ+ staff members the day off to come and protest.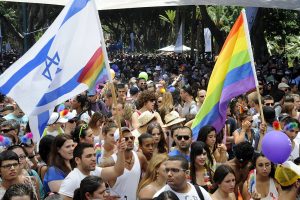 In the past 20 years, right-winged homophobic governments have ruled the country, and the legislation, and unlike the majority of the public, have become very discriminatory against the LGBTQ+ community in every aspect they have been able to.
Therefore, every achievement the LGBTQ+ community has won has been through supreme court rulings. The supreme court remains mostly liberal and has forced government offices to include everything concerning registering couples getting married outside of the country, approving both same-sex parents in the birth certificate without a long adoption process and giving equal rights when it comes to mortgages, etc.
In Israel, we still have a long way to go. Like the rest of the world, we have a high percentage of suicides within the LGBTQ+ community, especially among youth and our trans community. This is typically due to the lack of support and understanding of these identities and challenges they face. Any progress we are making is happening very slowly.
Israeli Cultural Significance of Having Children
For members of the LGBTQ+ community, getting married or starting a family has always been a distant dream if not an impossible mission. Starting a family in Israel is the most significant thing an Israeli can aspire to. Whether they are Jewish, Muslim, or Christian, in the middle east- starting a family is valued very greatly.
Often times, the first question a parent will ask their child after they come out as gay is, "Are we never going to have grandkids?" For most, it seems that if you reach the age of 40 and are single and don't have children, your parents will regard you as a complete and utter failure.
As grim as it is, the Holocaust is also a factor in the significance Israeli culture puts on starting a family. A Jewish person that does not bring children into this world will be made to feel the national burden on their shoulders and the LGBTQ+ members are not exceptions to this pressure.
Starting a Family as a Gay Couple in Israel is Made Easier with ORM Fertility
ORM Fertility's outreach in Israel has helped start a real revolution for gay parents. Despite the difficulties and the impossible bureaucracy, the percentage of surrogacy cycles utilized by intended-parents (in relation to population) in Israel is ten times higher compared to the rest of the world. Until recently, a gay couple or a single person wanting to start a family had to utilize various agencies and brokers who operate with their own monetary interests in mind instead of the best interest of the individual or couple.
ORM Fertility, headquartered in Portland, Oregon was already helping Israeli patients and saw an opportunity to better help those couples and individuals on their journey to parenthood by opening a location in their region. Now, with ORM Fertility's office in Tel-Aviv, parents-to-be can contact the clinic directly through the local Israeli team and have a better, more personalized experience every step of the way. Our Israeli team, comprised of all LGBTQ+ staff, are available to these patients to provide insight, coordination, and support in any way they need it.
Our Israeli team ensures that the entire fertility treatment journey is hand-tailored to the LGBTQ+ intended parent's needs, which can be very different from the needs of heterosexual couples.
Due to the political climate in regards to LGBTQ+ issues in Israel, it has been important to be involved in the patients' journeys outside of their specific treatment needs. This means, we've become involved on a deeper level and have a large presence at gay rights protests, events, and pride parades.
Our next step is education. ORM's Israeli team has been planning meetings with high school students to show them that there is hope for LGBTQ+ people who want to become parents and that having their own family is something they can aspire to if they wish. Another part of our youth outreach is partnering with a gay youth association to develop a children's book intended for gay families.
Our ORM Israel team works from a true desire to increase public awareness, regardless of sexual identity, that starting a family is something anyone can aspire to. ORM Israel's success reaches beyond the success of an individual family or as a company, it's another major stepping stone for LGBTQ+ rights in Israel.
Join us for Tel-Aviv Pride Sunday, June 9th through Friday, June 14th.