This last fall, Dr. Sgarlata, the head of ORM's Integrative Medicine practice wrote a review of CoQ10 for the ASRM Complementary and Integrative Medicine special interest group (CIM-SIG) newsletter.
CoQ10 is a naturally occurring compound found in every cell within the human body. CoQ10's is also known as ubiquinone.  CoQ10 supplementation appears to have the potential in women with diminished ovarian reserve and advanced age to improve mitochondrial activity and energy production. It has also been studied in women with polycystic ovary syndrome (PCOS).
CoQ10 Review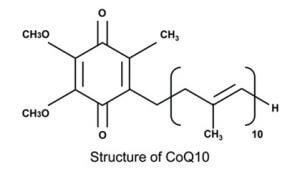 Keep in mind, CoQ10 is a supplement. Rigorous studies utilizing CoQ10 in infertile women with diminished ovarian reserve (DOR) are still lacking. To date, no human study shows a definite benefit for patients with DOR.
Ubiquinone vs Ubiquinol:
Coenzyme Q10 is fat soluble. In the body, CoQ10 exists in either the oxidized form, ubiquinone, or the reduced form, ubiquinol. The body is able to convert the consumed form to the other form as needed cells within the body can perform a redox interconversion reaction to maintain a state of equilibrium between the two forms as needed.
Ubiquinol has been reported to have higher circulating levels and absorption of CoQ10 than ubiquinone. Ubiquinol may be better for elderly patients or individuals with GI absorption problems. There are many different forms of CoQ10 currently available. It appears, that the ubiquinol form may require a lower dose.
Casper's group appears to have used Ubidecarenone (ubiquinone) in both their animal and human studies.
Here's a quick review of the recently published human studies:
ASRM O-144 Tuesday, October 18, 2016
Dietary supplementation with coenzyme Q10 in poor responder patients undergoing IVF-ICSI treatment. 600 mg CoQ10 twice a day for 12 weeks
CONCLUSIONS: No significant differences in outcome were detected between the CoQ10 and no treatment groups. However, the sample size (78 total) of this study may be underpowered to detect a significant difference.
ASRM P-638 Wednesday, October 21, 2015
The use of coenzyme Q10 and DHEA during COH and IVF cycles in patients with decreased ovarian reserve (DOR). CoQ10 (600mg daily)
CONCLUSIONS: Combined DHEA and CoQ10 supplementation significantly increases the AFC compared to DHEA alone, which lead to higher ovarian responsiveness during both COH and IVF, but without a difference in pregnancy rate.
ASRM P-417 Tuesday, October 15, 2013
Pregnancy Rates in Patients with Diminished Ovarian Reserve (DOR) Treated with Dehydroepiandrosterone (DHEA) some with Coenzyme Q10 (CoQ10). No dose of CoQ10 stated.
CONCLUSION: The addition of CoQ10 to DHEA in women with DOR/ POI undergoing IVF treatment does not seem to have a beneficial effect over DHEA alone.
Clin Med Insights Reprod Health. 2014; 8: 31–36. Published online 2014 Jun 8. doi: 10.4137/CMRH.S14681
Casper's group using polar body biopsy (PBBX). 600 mg of CoQ10 (ubiquinone) once a day with breakfast, orally, or identical placebo capsules for up to three cycles if pregnancy did not occur. All subjects took either CoQ10 or placebo for two months before the first IVF cycle. Study terminated early due to concerns of polar body biopsy.
CONCLUSIONS: No significant differences in outcome were detected between the CoQ10 and placebo groups. However, the final study was underpowered to detect a difference in the rate of aneuploidy.
Reprod Biomed Online. 2014 Jul;29(1):119-24. doi: 10.1016/j.rbmo.2014.03.011. Epub 2014 Mar 26.
Combined Coenzyme Q10 and clomiphene citrate for ovulation induction in clomiphene-citrate-resistant polycystic ovary syndrome.
CONCLUSIONS: Combination of CoQ10 (60 mg tid, likely ubiquinone started day two of clomiphene until hCG) and clomiphene citrate in the treatment of clomiphene-citrate-resistant PCOS patients improves ovulation and clinical pregnancy rates.
Clin Endocrinol. 2017;86(4):560-566.
The Effects of Coenzyme Q10 Supplementation on Glucose Metabolism and Lipid Profiles in Women with Polycystic Ovary Syndrome
CONCLUSIONS: CoQ10 supplementation at 100 mg/d along with Metformin for 12 weeks in subjects with PCOS showed a beneficial effect on glucose metabolism, serum total, and LDL cholesterol levels.
Summary:
The dose of CoQ10 studied in humans for DOR is 600 to 1200 mg/d (most 600) of Ubiquinone.
For patients with PCOS, dosing varies from 100-200 mg/day.
Divided doses of CoQ10 will produce higher plasma levels as compared to a single dose – maximizing absorption and having better steady-state levels.
Appears safe up to doses of 1200 mg/day.
To date, no evidence of improved live birth rates with DOR and IVF.
In Clomiphene-resistant patients, the addition of CoQ10 may increase both ovulation and clinical pregnancy rates.
At this time, it is uncertain whether the reduced form, ubiquinol, is superior to ubiquinone.