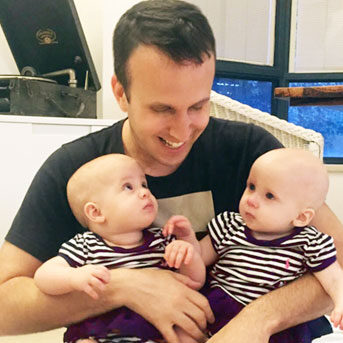 Erez and his partner have been together eight years. They celebrated a formal marriage ceremony in May 2013 and soon after, started to pursue their lifelong dream of becoming parents. Both of them always knew they wanted children, as far back as they can remember. The journey this couple took to become parents of beautiful twin girls Daphna and Danielle is filled with hope and travel, and most of all, love.
Erez, a self-described Type A personality who pays attention to every detail, began the couple's initial research into surrogacy. At first, they looked into options in the Far East, which was popular among Israeli families wanting to have a baby at the time. But the more they learned, the more they knew it wasn't the option for them, even though the expense was much lower. Medical, legal and insurance processes were not established, stable nor progressive in the region. Surrogacy in the United States offered the stability and openness they wanted for the pregnancy and the birth of their children.
With a bit more research, ORM Fertility quickly rose to the top of the couple's list of U.S. fertility centers. They wanted to develop a close relationship with their surrogate, which ORM and the surrogacy agency encouraged, as long as the surrogate also agreed. They were also happy with ORM's large and experienced staff. In the state of Oregon, both fathers can be named on a child's birth certificate, which was also important to them. In addition, the legal process of having a baby and traveling back to Israel was known to be formal and timely, unlike many other cities and countries. One thing that mattered most to them was the medical care and safety of their surrogate, and their insurance coverage in Oregon was the best they could find.
When we met with Dr. Bankowski and the ORM team members when they were here in Israel, it was love at first sight. They just proved us right on everything we already knew and thought. They were friendly, professional, caring."
Both the egg donor and surrogate selection process were long, tedious and incredibly important. ORM helped with every step, especially the couple's coordinator at the clinic, Carrie. Eventually, they selected an egg donor and were introduced to a surrogate named Brooke. They met Brooke online via Skype for an introduction. The introduction went so well that they went from complete strangers to feeling like family after the first call. She quickly responded through the surrogacy agency that she also felt the couple were a great match.
The couple traveled to Portland the next week, where they had the opportunity to meet the entire ORM team.
"It was all so organized, and we got to meet the people behind the emails and Skype. We were so happy to see the clinic and their high standards
"Carrie was our Patient Coordinator. She was our rock. This process takes a lot of you – it's like an emotional rollercoaster, where sometimes you can be on the top and filled with excitement and happiness, and sometimes you may be frustrated or anxious. Every step of the way we had Carrie as our focal point. She was on top of everything. She remembered all of our specific details, dates and data. She calmed us down, lifted us up with optimism, and was happy along with us at every happy step we had! She definitely made the process that much better."
The couple went through the standard medical tests and psychological evaluation for using an egg donor and surrogate, and left their sperm at ORM to be frozen. They wanted to have twins if possible, ideally with each man as a biological parent to one of the babies from a single egg donor — strictly for the genetic health of the children. Family wise, it was always clear that the babies would be their children regardless of any genetic relation.
During their trip to Portland, the couple met Brooke in person. They went to the Oregon Zoo with Brooke, her husband and her two children. It was a wonderfully emotional day which led to more meetings and dinners together. They took time to get to know each other and share their stories. When it was time to return to Israel, their goodbye was emotional, as if they were leaving family.
Eventually, it was time to transfer the embryos.
"We went through the embryo transfer with ORM. We had heard stories from others who had hard experiences with this process in third-world countries so we were worried going into it."
Soon after, the couple joined Dr. Bankowski and Brooke by Skype for an ultrasound to determine if she was indeed pregnant.
"The doctor identified the first gestational sac, then a heartbeat, then suddenly we heard him say in Hebrew: Twins ("Teomim!"), and showed us a second sac and pulse. On both sides of the screen there were tears of happiness, it was an amazing moment. We were pregnant with twins on our first try – and we knew that ORM was the best decision for us."
During the pregnancy, the fathers to be had almost daily contact with Brooke through Facebook, texts, pictures and Skype. They sent each other holiday cards and birthday gifts, comforting each other when one was worrying, and celebrating together when good news arrived. During the 20th week of pregnancy, the couple returned to Portland so they could all be together again. There was more wonderful family time together, but most importantly, they had the opportunity to experience the pregnancy together.
Four months later the men went to Portland again, a full three weeks ahead of Brooke's due date. They rented a house just around the corner from Brooke and her family and spent time getting ready for the babies' arrival. There were many shopping trips in preparation for parenthood, and a celebration of their first American Christmas with Brooke's family. In the first week of January, it was time to go to the hospital, to be present for the birth of their girls. Erez beams when he remembers the experience.
"We experienced the whole thing. We couldn't stop kissing Brooke and thanking her for making our dream come true, for making us a real family."
The couple stayed in Portland for three more weeks. Brooke helped them learn about diaper changing, pacifiers, bathing the babies, feeding them and so much more. Members of the new fathers' family traveled from Israel as well, and everyone had a wonderful time witnessing the beginning of the babies' lives.
Now back in Israel, they are living a wonderful life with Daphna and Danielle as well as their "first born" – their Pekingese dog named Bella, who loves the girls. They feel the process of having their girls went better than they ever could have expected, thanks to ORM.
What made our stress from the physical distance go away was the close relations we had with ORM and with Brooke. They kept explaining things, leading us down the right paths for the best results and the smartest decisions. They were all so patient, helped us with the language barriers, and even though we were an ocean apart, we were always updated and informed."
The family's experience was so wonderful that ORM asked Erez to represent them in Israel. He now works full time, helping coordinate new families' journeys. In fact, he has already helped more than 100 couples and single parents from Israel to start the process. With Erez's help, ORM has been able to tailor the fertility journey to the needs of Israelis, taking into consideration local language, time zone and Israeli law.
Today, Erez and his partner remain in touch with Brooke, and they share family photos and keep her updated on how the girls are doing. They look forward to telling the girls the story of how they came into their lives.
"Daphna and Danielle were born into a life with two fathers who love them endlessly, who will raise them and provide them with their physical and emotional needs. Our story and journey will be known to them. When they grow up, we will tell them about the process we went through to have them, they will know their surrogate and will be aware of the beautiful friendship we created with her. Our daughters are growing up with parents who love them more than anything."