INVOCELL
An innovative, affordable fertility treatment option.
The only clinic in the PNW to offer INVOCELL
Cost up to 40% less than traditional IVF
Schedule a Consultation Today
What is INVOCELL?
INVOCELL is an intervaginal culture device (IVC), and a first-of-its-kind fertility treatment. The IVC device holds the eggs and sperm in the body for fertilization and incubation, allowing for personal involvement in the process. An INVOCELL cycle involves an egg retrieval, intervaginal fertilization, and incubation within the INVOCELL device, and then an embryo transfer to the uterus in hopes of achieving a successful pregnancy.
How Does INVOCELL Work?
During an INVOCELL treatment cycle, eggs and sperm are combined in the INVOCELL (IVC) culture device. The device is then placed in the vagina, allowing for fertilization and incubation to occur.
After this incubation period, the device is removed from the body and the quality and quantity of your embryos that have developed are examined. Embryos (up to 2) will then be transferred to the uterus for the highest possible chance of success. A typical cycle can be completed in about three weeks, from the stimulation start to a successful transfer of the embryos to the uterus.
A typical INVOCELL cycle requires:
Medication to stimulate the growth of multiple eggs
Retrieval of eggs from the ovary or ovaries
Eggs and sperm are combined in the INVOCELL device and the device is then placed in the vagina for fertilization and incubation.
After incubation, the device is removed and the embryos that have developed will be examined and then one or more (up to 2) embryos are transferred into the uterus.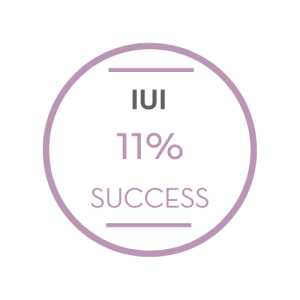 ORM Fertility's success rates for IUI are 11% which can be compared to the national average of 8-10% for IUI.
The national live birth rate for IVC with Invocell is 33%, as reported by SART.
ORM's success rates for traditional IVF is 64% for a 35-year-old woman. The national average for a 35-year-old-woman using traditional IVF is 48%, as reported by SART.
What is the success rates of INVOCELL?
The national live birth rate for INVOCELL is approximately 33%. This can be compared to ORM Fertility's success rates for IUI at 11%, where the national average for IUI is around 8-10%. For traditional IVF at ORM, a 64% success rates for a 35-year-old woman may be compared. The national average for a 35-year-old-woman using traditional IVF is 48%, as reported by SART.
Am I a good candidate for INVOCELL?
For best results with INVOCELL, ORM Fertility recommends that patients:
Have a BMI of less than 45
Have normal semen parameters, with no sperm issues (donor sperm can be used)
Are categorized at an AMH blood level of greater than 1
It may also be beneficial for patients with blocked or damaged fallopian tubes, endometriosis, or problems with ovulation such as PCOS.
What Does the Intravaginal Culture (IVC) System Include?
The INVOCELL System contains the INVOCELL Culture Device and INVOCELL Retention Device. The Culture Device is indicated for use in preparing, holding, and transferring human gametes or embryos during In Vitro Fertilization/Intravaginal Culture (IVF/IVC). The Retention Device is used during the incubation period to aid in holding the Culture Device in the vagina. The Culture and Retention Devices are not indicated for periods of use exceeding 72 hours.
What does the INVOCELL device look like?
INVOCELL has two parts: the culture device and the retention device. The culture device is about 1.5 inches tall and 1 inch wide and holds the eggs and sperm. The retention device holds the culture device in it and both are then placed in the vagina.
The inner vessel (the culture device) of the INVOCELL device is made of medical-grade polystyrene and non-latex synthetic rubber / thermoplastic elastomer (TPE) with a silicone o-ring. The culture device is non-embryo toxic and has been tested for embryo toxicity yielding at least 80% of 2-cell mouse embryos reaching the blastocyst stage.
The outer rigid shell (the retention device) of the INVOCELL device is made of medical-grade polystyrene and a large silicone o-ring. The retention device is non-pyrogenic and is endotoxin tested by LAL yielding no more than 20 EU/device.
What are the benefits of INVOCELL?
The INVOCELL treatment option provides multiple benefits for couples or individuals trying to conceive, including:
An affordable option for those wanting or needing fertility treatment who may have been priced out of other fertility treatments like traditional IVF
Less medications and fewer appointments with your doctor
Comparable efficacy and birth rates to intrauterine insemination (IUI) treatments
How many eggs does the device hold?
INVO Bioscience, the makers of INVOCELL, recommends decreasing the sperm concentration to 30,000 motile sperm/mL to get the best fertilization rate and embryo development. The device can house up to 7+ oocytes or embryos, but there are no restrictions on how many oocytes can be placed in the device.
Do I have to take medications with IVC?
Yes. The INVOCELL procedure is combined with natural or mild ovarian stimulation, generally recruiting less than 10 follicles. Your ORM physician will determine the type and quantity of medications required to recruit the number of follicles based on your personalized fertility treatment plan. Your treatment may also require hormonal injections to stimulate your ovaries, but the amount of these medications will usually be a lot lower than the amount used in ovarian hyper-stimulation protocols for traditional IVF.
How much does INVOCELL cost?
INVOCELL is less expensive – up to 40% less than the costs of traditional In Vitro Fertilization (IVF), although typically more expensive than Intrauterine Insemination (IUI). INVOCELL at ORM costs $7,000, which does not include pre-cycle testing, medications, anesthesia, and pregnancy monitoring. These can range from $3,000 – $6,000 and depends on your treatment plan.
Does insurance cover INVOCELL?
INVOCELL or IVC is considered an IVF treatment. For some, insurance may cover parts of treatment and medications. Please check with your insurance provider to understand your benefits. Many patients do not have insurance coverage and pay out of pocket for treatment and medications. Your may also connect with our financial coordinators to discuss your options [email protected]
What are the possible risks?
The device may fall out. The likelihood of this happening is low, but if it does, do not open the device under any circumstances. If the retention device does not fall out, remove it with your fingers.
Immediately, with warm (not hot) water, wash the devices and reinsert them into the vagina. The INVOCELL device should go first, then the retention device. Call ORM during daytime clinic hours to inform them and find a time when you can come in to check the placement. You do not need to alert on-call staff or go to urgent care.
Increased maternal temperature due to fever or excessive exertion may adversely affect embryo growth in the INVOCELL device during intra vaginal culture. If you develop a fever over 100 ° F take 100mg of Tylenol and retake temperature 1 hour after taking Tylenol. Call clinic during business hours if fever persists.
Where do I get an INVOCELL device?
All INVOCELL devices are provided by ORM Fertility at the clinic during treatment. No INVOCELL devices will be accepted from outside vendors or patients.